Según la Asociación Americana del Corazón, andar es la actividad física con menos porcentaje de abandono al comenzar a practicarla. ¿Piensas que no tiene beneficios?, piénsalo de nuevo.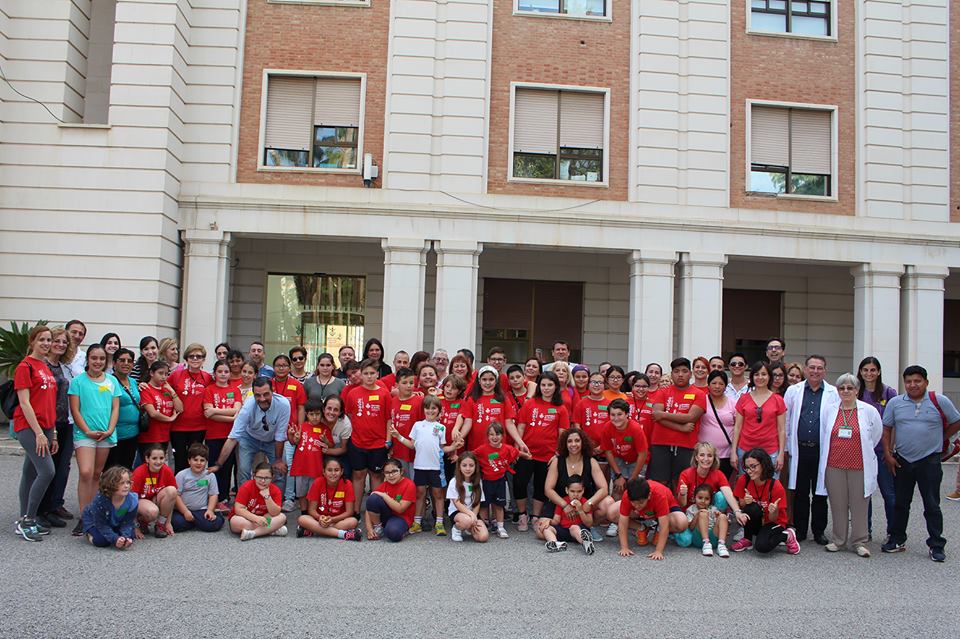 La Marcha Rápida es una actividad física de bajo impacto y más amable con tus articulaciones que correr. Es una actividad segura para todas las personas con dificultades ortopédicas, baja condición física y para aquellas que tienen sobrepeso u obesidad. Además, puede ser una actividad divertida, sobre todo, si lo haces en grupo, en familia (padres, madres, hermanos y hermanas). Andar en grupo te permite conocer a otras personas, compartir ideas, contagiarte de sus ganas de mejorar tus hábitos de vida. Además, cuando andas, sales de tu entorno habitual e incluso puedes descubrir otros lugares de tu ciudad…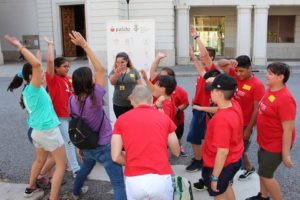 Pero…¿y si además pudieras hacerlo en compañía del pediatra, o de la pediatra que ha indicado la práctica de marcha rápida como parte del tratamiento del sobrepeso de tu hijo o hija?. Tu pediatra caminaría contigo, aconsejándote y resolviendo las dudas que tengas sobre la salud de tus hijos y /o hijas. Todas estas ventajas hacen que andar sea algo más atractivo, ¿verdad?.
Marchando con Mi Pediatra es un Proyecto que parte del Programa PAIDO, dirigido a: niños, niñas y adolescentes con obesidad, y a sus familias , que siguen tratamiento en la Unidad contra la Obesidad y el Riesgo Cardiovascular (CiberObn) del Servicio de Pediatría del Consorcio Hospital General Universitario de Valencia.
Este Proyecto se está realizando por primera vez en España junto con la Concejalía de Sanidad, Salud y Deporte del Ayuntamiento de Valencia.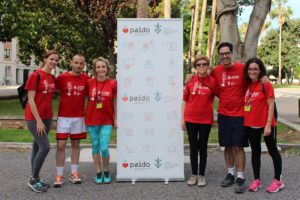 Esta Actividad cuenta con el auspicio de la iniciativa internacional Walk with a Doc (andar con un doctor). Este programa se originó en Columbia, Ohio (EEUU), en abril del año 2005 por el Dr. David Sabgir y en la actualidad se ha extendido por todo EEUU e incluso a otros países.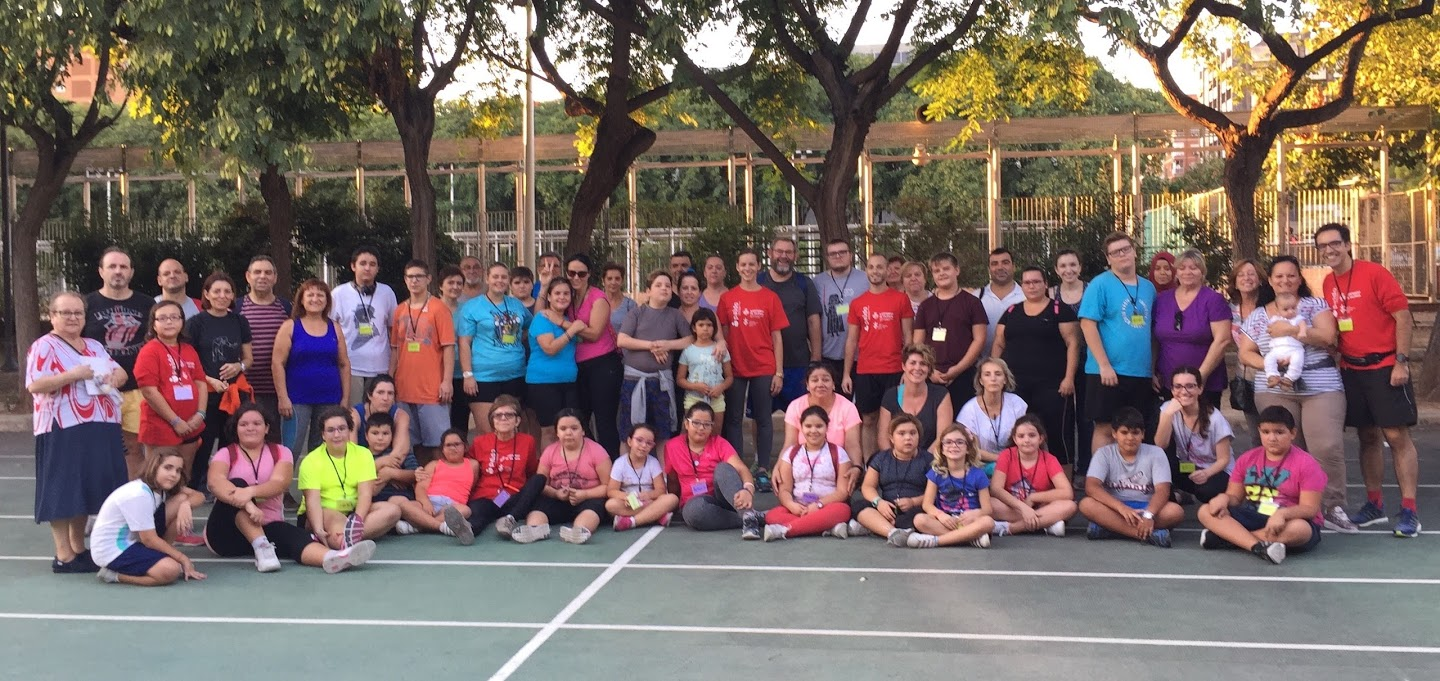 Para unirte al grupo, no se necesita ningún tipo de equipamiento especial y no hay ninguna regla en particular. Sólo ponte un par de zapatillas de deporte cómodas y anda… con tu familia, el equipo de animación sociocultural y tu PEDIATRA.
Segons l'Associació Americana del Cor, caminar és l'activitat física amb menys percentatge d'abandonament en començar a practicar-la. Penses que no té beneficis?, pensa-ho de nou.
La Marxa Ràpida és una activitat física de baix impacte i més amable amb les articulacions que córrer. És una activitat segura per a persones amb dificultats ortopèdiques, baixa condició física i per a aquelles que tenen sobrepés o obesitat. A més, pot ser una activitat divertida, sobretot, si la fas en grup, en família (pares, mares, germans i germanes) . Caminar en grup et permet conéixer altres persones, compartir idees, contagiar-te de les seues ganes de millorar els teus hàbits de vida. A més, quan camines, ixes del teu entorn habitual i, fins i tot, pots descobrir altres llocs de la teua ciutat…
Però, i si ho fas amb companyia del pediatre, o de la pediatra que ha indicat la pràctica de marxa ràpida com a part del tractament del sobrepés del teu fill o filla?. El teu pediatre caminaria amb tu, aconsellant-te i resolent els dubtes que tingues sobre la salut dels teus fills i /o filles. Tots aquests avantatges fan que caminar siga una mica més atractiu, veritat?.
Marxant amb el Meu Pediatre és un Projecte que partix del programa PAIDO, dirigit a xiquets, xiquetes i adolescents amb obesitat, i a les seues famílies, que seguixen tractament en la Unitat contra l'Obesitat i el Risc Cardiovascular (Ciber Obn) del Servei de Pediatria del Consorci Hospital General Universitari de València.
Este Projecte s'està realitzant per primera vegada a Espanya juntament amb la Regidoria de Sanitat, Salut i Esport de l'Ajuntament de València.
Esta activitat compta amb l'auspici de la iniciativa internacional Walk with a Doc (caminar amb un doctor). Este programa es va originar a Columbia, Ohio (EUA) a l'abril de l'any 2005 pel Dr. David Sabgir i en l'actualitat s'ha estès per tots els EUA i fins i tot a altres països.
Per a unir-te al grup, no es necessita cap tipus d'equipament especial i no hi ha cap regla en particular. Només posa't un parell de sabatilles d'esport còmodes i camina… amb la teua família, l'equip d'animació sociocultural i el teu PEDIATRE.
---
According to the American Heart Association, walking has the lowest dropout rate of any physical activity. Think it doesn't do any good?… Think again.
Walking is a low impact physical activity; easier on the joints than running. It is safe for adults and children with orthopedic ailments, low physical condition and for those who are overweight or obese. In addition, it can be a fun activity, especially if you do it in a group, and even more in family (parents and children together). Group walking allows you to meet other people, get in touch with people who share with you the desire to improve your life habits. Also, when you walk, you leave your usual environment and you can even discover other places in your city …
And if you would have the chance to walk with your pediatrician? …., sharing with you the activity that he/she has prescribed and resolving all the doubts that arise about the health of your children?… All these advantages make walking a little more attractive, right?
Walking with My Pediatrician is a project that starts from the PAIDO Program, aimed at obese children and adolescents and their families, who are being treated in the Obesity and Cardiovascular Risk Unit (CIBER Obn) of the Pediatric Department of the Consortium General Hospital of Valencia.
This project is being carried out for the first time in Spain together with the Department of Health, Health and Sport of the City of Valencia.
This activity is sponsored by the international Walk with a Doc initiative. This program originated in Columbia, Ohio (USA) in April 2005 by Dr. David Sabgir and has now spread throughout the US and even to other countries.
To join the group, you do not need any special equipment and there are no particular rules. Just wear a pair of comfortable sneakers and walk … with your family, the sociocultural animation team and your PEDIATRICIAN.