Dr. Annemarie Sommer Scholarship Fund
In the summer of 2018, Dr. Sommer's generous bequest helped establish this fund, which provides investment to medical students to cover costs of setting up new Walk with a Future Doc Chapters at their medical school.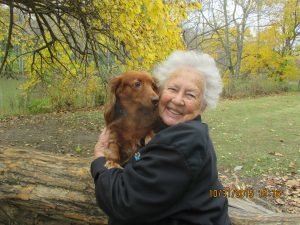 A pioneer and internationally‐renowned figure in the field of dysmorphology, Dr. Sommer was also a beloved leader, friend, and steadfast presence at Walk with a Doc. For over a decade, she led well more than 60 Walks, took 1000s of pictures, and when no longer able to attend Walks, herself, was visited hundreds of times by her Walk family. WWAD is proud to honor her legacy by naming this inspirational program to commemorate her passion.
Your investment in the Dr. Annemarie Sommer Scholarship Fund will help establish Walk with a Future Doc programs at all 179 medical schools in the United  States,  bringing lifestyle medicine education into practice for a new generation of physicians. Read more from students implementing the program at University of Florida, Lincoln Memorial University, and Oakland University.
Right now, we have WWAFD at 32 of 179 medical schools – and we need your help to reach 100% by the time the 2019-­2020 school year starts.
Help WWAD expand its reach to budding young medical students—our nation's future doctors. Make a gift today to the Sommer Scholarship Fund.
Contact us for more information