The Walk With a Doc initiative has announced the Dr. Annemarie Sommer Scholarship to assist medical students in starting Walk with a Doc programs in their communities. Up to $600 will be made available to medical students to cover the costs of establishing and promoting this initiative.
We lost an incredible woman on July 20, 2018,  Dr. Annemarie Sommer. Annemarie was a pioneer and internationally renowned figure in the field of dysmorphology. Closer to home, she was a beloved leader, friend, and steadfast presence at Walk with a Doc. For greater than 10 years, she led well over 60 Walk with a Docs, took/printed 1000's of pictures, and when unable to attend was visited hundreds of times by her Walk family. Annemarie, before she passed, left Walk with a Doc a generous donation. Our board decided these funds will be allocated towards a scholarship fund in her name for medical students and residents starting Walk with a Doc and Walk with a Future Doc.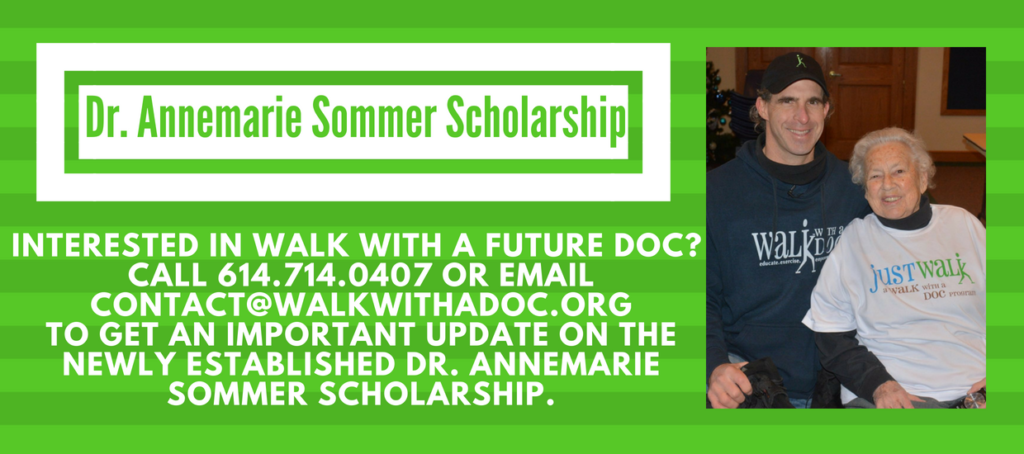 Published in The Columbus Dispatch on July 29, 2018:
Born and raised in Konigsberg, Germany in 1932. Her family had to flee to other parts of Germany during the Russian occupation of the Baltic sea area post World War II. She escaped from East Germany and immigrated to the U.S. in the 1950's where she worked in New York state and earned a general education diploma so she could attend college. She received her undergraduate degree at Wittenberg University in Springfield, Ohio in 1960, working her way through school. She was accepted at the Ohio State University medical school and became interested in genetics during her training. She was board certified in Pediatrics and Genetics and worked her entire career at (now) Nationwide Children's Hospital in Columbus, Ohio. She described her role as "the detective," who diagnosed genetic conditions in children and helped families understand the effects of the diagnosis. A long time resident of Dublin, Ohio, Dr. Sommer served as chief of the Genetics Section at the Children's Hospital for many years and was a professor in OSU's genetics and molecular genetics programs. She presented papers on genetics at numerous conferences and meetings during her career and her reputation as known internationally. She loved nature and the outdoors and was an avid swimmer and photographer. She will be missed by her beloved dachshund, Macy.
Kim McBride, her Division Chief at Nationwide Children's Hospital and Ohio State University in Columbus, OH, wrote the following:
"Annemarie immigrated to the United States as a teenager after displacement during World War II. She received a B.A from Wittenburg University in Ohio before completing her M.D. at OSU. She was a pediatric resident here at Children's before she went to the NIH to pursue her passion in genetics. After completing a fellowship there, she returned to Children's in 1970, essentially becoming all things genetic here. Over her nearly 50-year career at NCH, she became nationally recognized as a skilled dysmorphologist, helping characterize a number of syndromes, with regular appearances at the annual David W. Smith Workshop on Malformations and Morphogenesis. When I got to know her on my arrival in 2004, she had carried this expertise along as her patients aged with her, describing the features in adults of many conditions most of us in genetics knew only about in children. Dr. Sommer was a regular fixture at many local governmental institutes, including the Ohio NewbornScreening program and Franklin County Board of Health. Along with physicians like Drs. Joann Craenen, Grant Morrow, and Katalin Koranyi, she was one of the group of excellent clinicians that have been a bedrock for NCH. She continued to work into her 80's, retiring only in 2016. The Monday morning clinics in genetics I shared with her had an empty spot, without her diagnostic expertise and stories of her friends and genetic colleagues around the world who were the giants in field. Her frankness and wit made the clinics entertaining and seem to pass quickly, and her willingness to see my patients to provide advice and help guide a junior colleague were greatly appreciated. Loved by her patients and their families and admired by her physician colleagues, she will be missed."