2020 Walk Challenge FAQs
Thanks for your interest in the 2020 Walk with a Doc Challenge – Kilimanjaro! Check out some of these frequently asked questions and feel free to email walkchallenge@walkwithadoc.org if you have any more questions.
I have a question that's not on this page. Who do I reach out to?
We're here to help! Email walkchallenge@walkwithadoc.org or give us a call at 614-714-0407.
I'm ready! How do I register?
Visit our Racery Page by clicking here
Under the "About+Join" section click "Join Now"
Fill out your information and then click "Register!"
Fill out your name and address, then click "Payment Info"
Add your credit card information then click "Pay"
Boom, you're in! You should receive a welcome email from Racery. If you don't, please email walkwithadoc.kilimanjaro@racery.com
How do I register a 2nd person?
After registering yourself, click your profile picture in the top right corner of the Racery page. Click "logout". You should now see a "Join Now" button where you can register a 2nd person.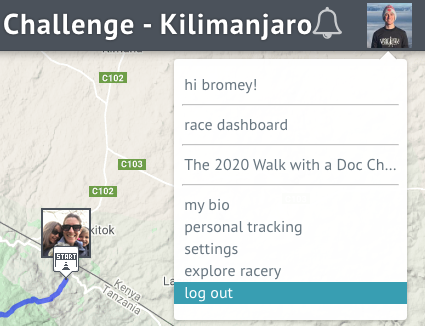 Once I'm registered, how do I log in?
In the upper right hand corner there is an outline of a person, select that to get to a drop down menu. Click login.
You will be prompted to validate your device by entering the email address you registered with
Go to your email, open the email from Racery and select "confirm". This will automatically log you into the platform.
Do I really have to walk the whole 44-mile route?
This is a two-week personal challenge, so set whatever goal for yourself that you'd like. The good thing is that any physical activity counts! You can walk, run, bike, swim, garden, etc. and your activity is automatically converted into "walking miles".
How do I create a group?
1. Head to our Racery page
2. Login (if you're not already)
3. In the top right corner, click your picture
4. Click "my bio"
5. Click "EDIT MY BIO"
6. You should be able to add or remove groups.
After the group is created, you can easily share the link with friends, family, co-workers, club members, etc. to join you!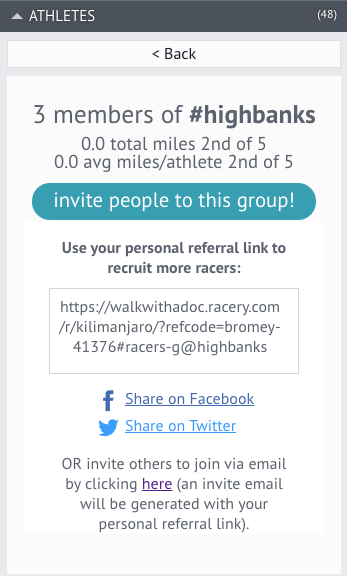 Can I connect my wearable device?
Feel free to use your wearable to help you keep track of your activity, but you'll still have to manually input the information into the Racery website or mobile app.
Can I donate myself instead of fundraise?
Of course! You can make a donation when you sign up, or if you're already registered you can click the "fundraising" tab then search for your name.
Where does my money go?
All proceeds will enhance virtual programming for more communities to access the tenants of Walk with a Doc, an international 501(c)3 that hosts free physician-led walking groups in communities around the world.
Why is this over Thanksgiving?
A few reasons…
The pandemic has made it hard for families to travel during the holidays this year, so we want to offer an opportunity to connect with the WWAD family and any of your actual family that would like to join us!
The holidays are usually filled with lots of yummy food and pumpkin-spiced whatevers, so this is an opportunity to walk off some of those extra treats.
Racery FAQs
Head over to the Racery FAQ page for many more frequently asked questions!