Walk Challenge FAQs
Thanks for your interest in the 2021 Walk with a Doc Marathon Challenge! Check out some of these frequently asked questions or feel free to reach out anytime.
Event Questions: walkchallenge@walkwithadoc.org
Tech Questions: wwad-4-marathons@racery.com
WWAD Office: 614-714-0407
I'm ready! How do I register?
Visit our Racery Page by clicking here
Under the "About+Join" section click "Join Now"
Fill out your information and then click "Register!"
Fill out your name and address, then click "Payment Info"
Add your credit card information then click "Pay"
Boom, you're in! You should receive a welcome email from Racery. If you don't, please check your spam folder or email wwad-4-marathons@racery.com
How do I register a 2nd person?
After registering yourself, click your profile picture in the top right corner of the Racery page. Click "logout". You should now see a "Join Now" button where you can register a 2nd person.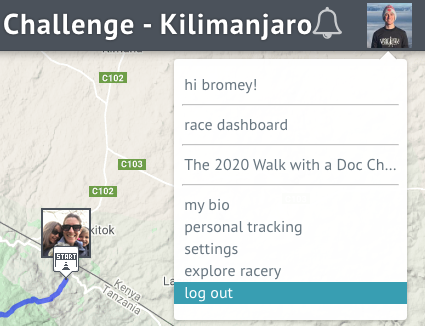 Once I'm registered, how do I log in?
In the upper right hand corner there is an outline of a person, select that to get to a drop down menu. Click login.
You will be prompted to validate your device by entering the email address you registered with
Go to your email, open the email from Racery and select "confirm". This will automatically log you into the platform.
Do I really have to complete four marathons?
This is a two-week personal challenge. You can set yourself a goal to walk one, two, three, or all four marathons. Once you complete one, you'll move on to the next! Plus, any physical activity counts. You can walk, run, bike, swim, garden, etc. and your activity is automatically converted into "walking miles".
What is a group and how do I create one?
Groups are simply a way for you to keep track of other participants. You can create a group for your family, friends, coworkers, etc. Here's how:
1. Head to our Racery page
2. Login (if you're not already)
3. In the top right corner, click your picture
4. Click "my bio"
5. Click "EDIT MY BIO"
6. You should be able to add or remove groups.
After the group is created, you can easily share the link with others that you'd like to join!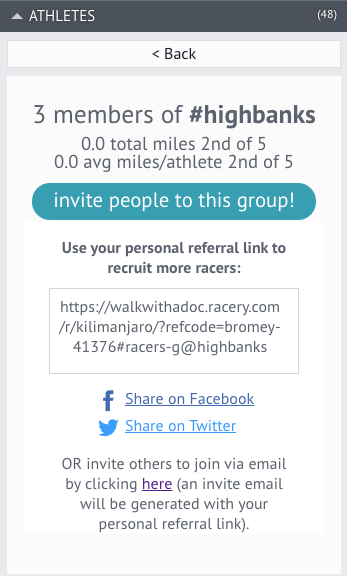 Can I connect my wearable device?
Feel free to use your wearable to help you keep track of your activity, but you'll still have to manually input the information into the Racery website or mobile app.
Can I donate myself instead of fundraise?
Of course! You can make a donation when you sign up, or if you're already registered you can click the "fundraising" tab then search for your name.
Where does my money go?
A portion of registration as well as 100% of every donation will go to Walk with a Doc, a 501(c) (3) that inspires communities through movement and conversation. You can help people across the globe take steps to better health!
Racery FAQs
Head over to the Racery FAQ page for many more frequently asked questions!