Walk with a Doc is a national non-profit organization that encourages heart health in local communities by organizing walks with local physicians and healthcare professionals. Walkers enjoy a refreshing and rejuvenating walk in the park with Crystal Run physicians who provide support to the walkers and answer questions during the walk.
"We really enjoyed our Walk with a Doc. It was a fun way for my family to exercise together on a beautiful Saturday morning in Goshen. Everyone that we met on our walk through Salesian Park was extremely friendly, and Dr. Nasser shared some healthy living tips that were very helpful. It is a great program, and I recommend that everyone try and get out of the house for a Walk with a Doc," said Thomas Larsen, Walk with a Doc participant.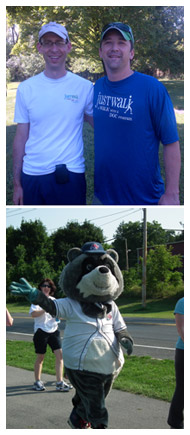 Dr. Jonathan Nasser (left) and Thomas Larsen (right) at recent Walk with a Doc
Rookie the Renegade at recent Walk with a Doc with Dr. Laura Nicoli (behind)
Interested walkers are encouraged to visit the Community Events Calendar on the Crystal Run Healthcare website for more information and to pre-register for the walk. This is a free event and pre-registration is not required, though it is suggested. Future walks will be announced via the Crystal Run Healthcare website on the Community Events Calendar as well.
"Crystal Run Healthcare's physicians advocate a healthy lifestyle for all of our patients. Walking is a simple and convenient way to make strides toward such a lifestyle. We are excited to have the opportunity to participate in the Walk with a Doc program and walk side-by-side with the community as we all get healthy together," said Jonathan Nasser, MD, and Walk with a Doc Team Leader of Crystal Run Healthcare.
About Crystal Run Healthcare: Crystal Run Healthcare is a premier multi-specialty group practice, and is among the fastest growing medical practices in the country. Crystal Run Healthcare has over 250 providers, in over 40 medical specialties with 15 practice locations focusing on the healthcare needs of the mid-Hudson Valley and lower Catskill region. Crystal Run has a strong commitment to primary care, employing an outstanding group of physicians representing the specialties of Internal Medicine, Obstetrics/Gynecology, Family Practice and Pediatrics. The practice includes unsurpassed sub-specialists in a variety of medical and surgical specialties. Crystal Run Healthcare offers fully accredited, all-digital radiology and laboratory services, and is a national leader in the use and advancement of electronic health records (EHR). Crystal Run Healthcare is accredited by The Joint Commission, designated by the NCQA as a level 3 Patient Centered-Medical Home, has been selected by the Centers for Medicare and Medicaid Services as one of the first 27 Accountable Care Organizations (ACO) in the nation to participate in the Medicare Shared Savings Program (MSSP). Crystal Run has also been recognized by NCQA as one of six "Early Adopters" seeking ACO accreditation in the nation. Crystal Run has the first American Academy of Sleep Medicine accredited sleep center in the region, was one of the first 16 practices across the US to be certified through the Quality Oncology Practice Initiative for its oncology care, and has the only Urgent Care in the region that is both Joint Commission Accredited and a Certified Urgent Care Center as designated by the Urgent Care Association of America.